Autistic people have poorer physical and mental health than the general population. As part of our vision for a long, happy, healthy life for autistic people we've been calling for improved data on autistic people's health.
At the start of August 2017, the National Institute for Health and Care Excellence (NICE) recommended that GP practices across the country should establish which people have confirmed diagnosis of autism in their practice. This would be a note in each GP health record. 
A GP register could ensure that doctors provide healthcare which works for every autistic person. 
Autistic people could see real improvements in their health and wellbeing through a register that 

ensures that autistic people are more commonly and easily offered reasonable adjustments when they visit their doctor
allows health services to be more accurately planned and delivered
helps us understand whether we are making a difference to autistic people's health and lifespans at a national level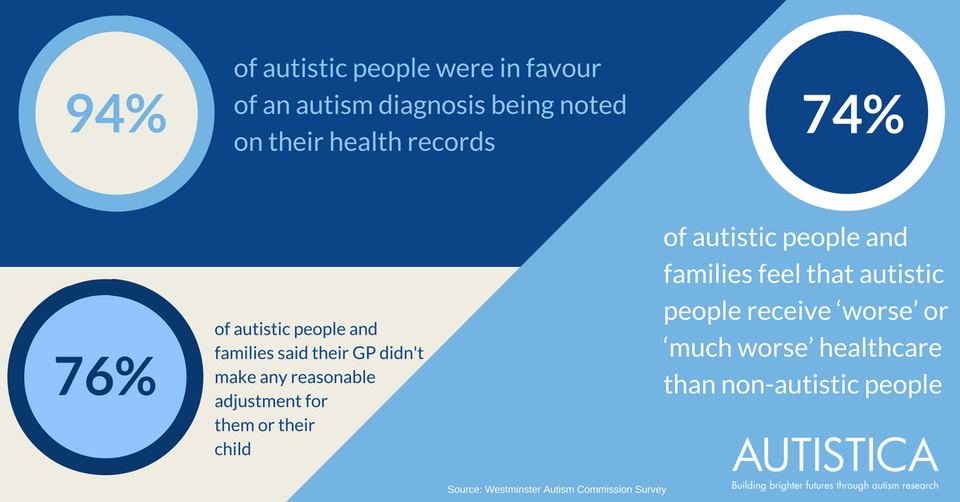 We already track these outcomes for many other conditions, including people with diabetes, learning disability and epilepsy and it has been shown to improve people's health outcomes.
We now need clearer information about how people can decide in an autism-friendly way whether they would rather not have doctors made aware of their diagnosis at the GP surgery, or other parts of the health service. Regardless, data would always be held anonymously and only be made available to professionals in contact with an autistic person. It is also already possible opt out of having your data shared outside the health system, such as for research or quality checks on services.
More detail about how and when this scheme will be introduced is important and we would like to see autistic people and their families consulted, like they were in the first stage, so that the end result can accommodate their wishes.