Thursday 10 September is World Suicide Prevention Day, and this year the theme is connections. We will be sharing the latest research, insights from our community on how they stay connected, and the ways we are working together to prevent suicide.
We know that autistic people are more likely to think about suicide and that tragically it is a leading cause of death for autistic people. We also know that there are differences between suicide in autistic people and the rest of the population.
That's why it is crucial that we listen to our community, carry out research and work with government and service providers to prevent avoidable deaths.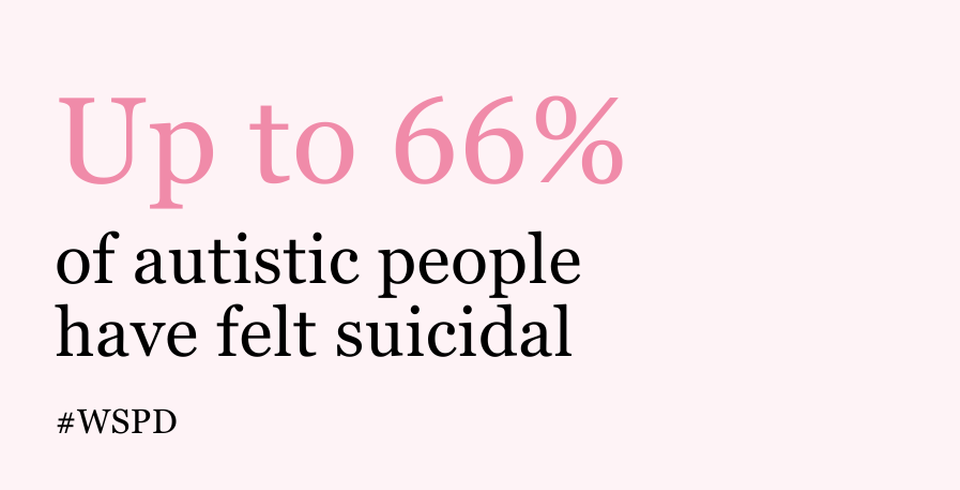 We're carrying out research
We have supported research by Dr Sarah Cassidy and her team at Nottingham University to understand the scale of the suicide crisis facing the autism community. By speaking to family members, friends and medical professionals about people who have died by suicide, the team have been looking for evidence of autism and an understanding of the circumstances leading up to their death.
We have supported the same team to work with the community to develop a list of the top ten autism community priorities for future suicide research.
We're listening to our community
As well as involving autistic people in all stages of our research, we regularly check in with the Autistica Insight Group who share their experiences as part of our policy and campaign work. We recently asked them about what community and being connected means to them. Here's what they had to say:
We're sharing information
We work with leading experts in autism and mental health to share the latest information around mental health with autistic people, families and professionals.
Earlier this year Dr Sarah Cassidy hosted a webinar on the importance of connnections and social belonging for preventing suicide. Watch her webinar on our YouTube channel.
We're advising government
We want policy makers to understand suicide in autistic people, and to prioritise this vulnerable group when funding services. We developed a suicide prevention briefing aimed at policymakers. The briefing contains quotes from autistic people and families, alongside a review of what we know, what we need to find out and what steps policymakers can take towards preventing avoidable deaths.
We are in regular conversation with the NHS and government about the issues identified in the briefing and are pleased to say that progress is being made.
Together we're preventing suicide
By working together, sharing our experiences and expertise, and supporting each other by staying connected, we can build a future where autistic people live the long and happy life they deserve.
---