We're delighted to have won a Better Society Award for the second year in a row.
At the Better Society Awards held in London on May 24, we picked up the award for Best Scheme to Encourage Staff Fundraising, in recognition of our partnership with Deutsche Bank, along with children's charity Hope and Homes for Children.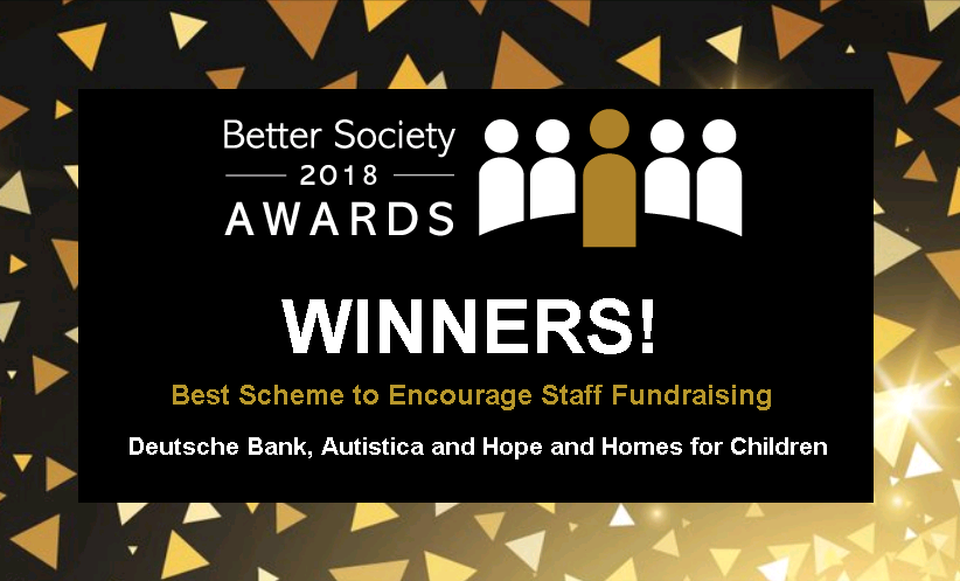 Our Charity of the Year partnership with Deutsche Bank raised nearly £2.4 million for autism research in 2016/17 and has enabled us to advance with ground-breaking projects: developing a smartphone app to support autistic people with anxiety (set for launch in June) and a research-backed internship scheme to help autistic graduates into work.   
Last year, Deutsche Bank hosted their annual One Day fundraising day to raise money for ourselves and Hope and Homes for Children. On the day, entertainers and celebrities encouraged members of staff to donate one day's salary to the bank's Charities of the Year – with the business matching all donations. 
We won a Better Society Award in 2017 - the Best Partnership with a National Health Charity award. We are hugely grateful for the continued recognition. Our partnership with Deutsche Bank  has helped us make huge progress towards our vision of longer, healthier, happier lives for all autistic people.